they're here! they're here!!!
on thursday, after a pretty grueling work day, look, what i came home to... my monkey sock swap package! who could it be from?

*drumroll please*

why, my monkey pal is DONNA!!! for weeks we've seen her progress on not one but TWO incarnations of monkey socks for me. donna, thank you SO much for all of your hard work. if you haven't checked my blog yet, i love love love love LOVE my socks!
here are my beautiful brooks farms acero monkey socks... sure it's almost 85+ degrees here in hawaii, but i wore them for the remainder of the night. and then not to forget to mention all of the other fantastic goodies inside!
the socks were accompanied by a wonderful foam monkey constructed by donna's daughter (now sitting proud in my cubicle @ work), a sock pocket covered in banana-driving monkeys, the original monkey sock yarn from the flock bransonas, a 3-in-1 lego creature featuring monkey configuration, some colorful point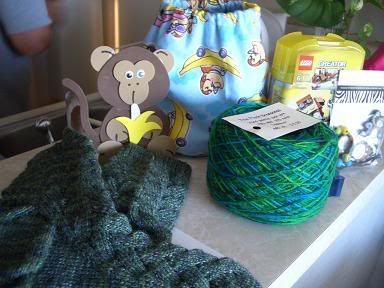 protectors and a monkey necklace set! *phew*
donna, thank you so much for all of your beautiful work and genorosity! and most of all, thanks for being such a great monkey pal!

~ joy